Having your heater breakdown during the peak of winter is the last thing any homeowner wants to undergo. Fortunately, there are simple steps that residents can take in order to prevent any disturbance and inconvenience. This includes scheduling prompt maintenance visits, repairing filters when necessary, and routinely cleaning your unit.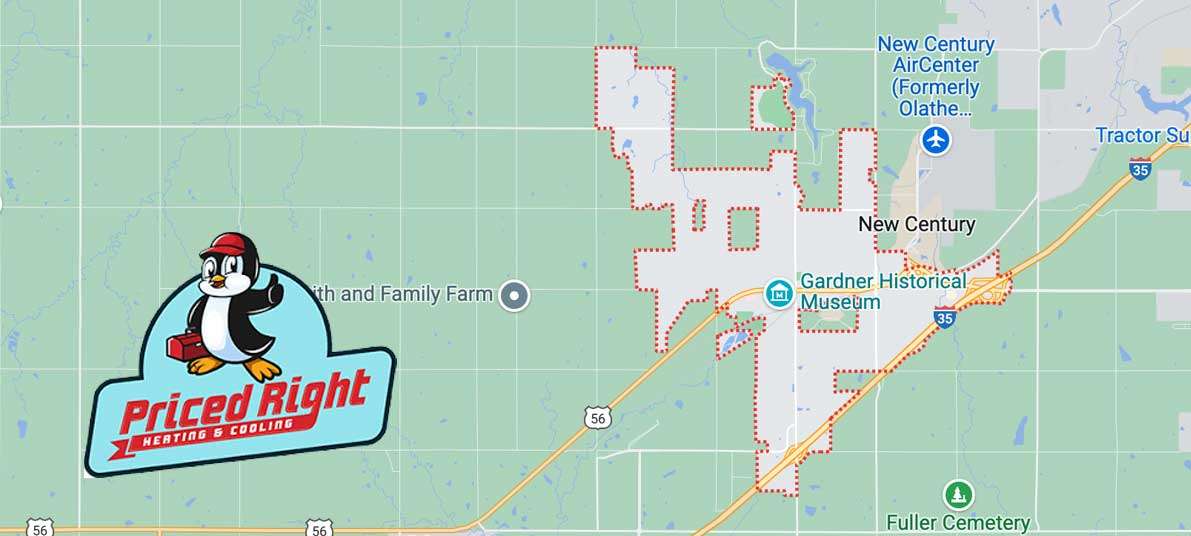 Priced Right Heating & Cooling is proud to offer affordable heating system services ranging from custom installations and replacement units to yearly maintenance and minor repairs. If you have noticed an increase in your energy bills or have not had your heater serviced within the last year, contact us today to schedule your own quick and easy appointment. Trust us to take care of your Gardner heating services.
Read what your neighbors in Gardner are saying about us in our customer reviews!
We also…
Provide upfront pricing with every call.
Have licensed & insured heating technicians.
Provide financing options.
Guarantee 100% satisfaction with services.
What is the average heater's lifespan?
The lifespan of a heater depends on a variety of factors, ranging from the original manufacturer and the amount of use to how often the unit is maintained. Modern heaters tend to last around 15 or 20 years, but most owners are going to want to begin exploring their options for a new heater around the 15-year mark, especially after heavy use.
Why should you consider prompt maintenance?
Just as with any other complex device or piece of machinery, a heater must be maintained regularly for a variety of reasons. When regular maintenance does not take place, owners may notice rising energy bills when the colder seasons come in. Some estimates show upwards of a 5% loss in efficiency when a heater is not maintained correctly, and this can mean big money and a larger carbon footprint for a home over time.
Proper maintenance will also help to improve the air quality of the home with regular filter changes, duct cleaning, and air quality inspections. Due to the amount of moving parts and extreme changes in temperature, a thorough inspection will reduce the chance of serious damage taking place before a replacement is needed.
Does your heater need repairs or replacement?
While it is always best to seek out the opinion of one of our experienced technicians when it comes to a heating system, there are some things for owners to keep in mind when the heater is no longer working correctly. The three things to consider are:
The age of the furnace (efficiency).
Its potential heat load.
The cost of fuel.
When the unit is damaged and nearing 15 years old, it is most likely better to replace than repair. It is also a good idea to replace the unit when fuel prices go up or expansions are made to a home in order to trade out for a high-efficiency unit.
Full-Service Heating Solutions
24 hour emergency
Air handler
Evaporator coil
Furnace installation & replacement
Furnace repair & maintenance
Heater repair & maintenance
Heater installation & replacement
The cost of fuel.
Local Reviews
for Gardner, KS
Priced Right Heating and Cooling
Rated
5.0
out of 5 stars based on
1
customer reviews
---
Finally an installation done correctly, and great service to boot!
Alex

-

Gardner

,

KS

66030



Review of
Priced Right Heating and Cooling
When the AC unit in our new home failed unexpectedly, Jim and Paul came out early on a Saturday morning to install the new unit. During the install, they found a crimped piece of piping which Jim explained is likely what caused the prior unit to fail after only 6 years! So not only did they do a great job installing the new unit, but they were also very thorough. I should also mention that Paul came out for the initial service call at about 6:00 pm, and was very friendly and professional even though he was working overtime hours.
---
Jim F.
Air conditioner replacement
Near

N Spruce St,

Gardner

,

KS

66030
Jim F.
Gardner air conditioner replacement
Near

W Madison St,

Gardner

,

KS

66030
Paul L.
A C repair in Gardner
Near

W 172nd St,

Gardner

,

KS

66030
Paul L.
A C repair in Gardner
Near

N Poplar Cir,

Gardner

,

KS

66030
Paul L.
Fixing a/c in Gardner
Near

W 183rd St,

Gardner

,

KS

66030