HVAC Services to Be Thankful For
Thanksgiving has traditionally been associated with harvest festivals, the last feast before people had to prepare for a very long winter. As cold weather rolls in around the area, it can be easy to sympathize with ancestors that had to huddle around a fire and hope for an early spring. In modern times, folks take their heating and cooling systems for granted but taking a moment to appreciate them and the professionals who work on them in a time of giving thanks is appropriate.
This year, homeowners can be thankful for climate-controlled homes and the professionals working tirelessly all year long to ensure that everyone is safe from the elements. Here are three important reasons to appreciate them.
Staying Warm in the Winter
Winter time was always a stressful time before heating systems were widely available. During the winter, the cold temperatures seriously threatened the survival of anyone that ran out of heating resources like firewood or coal. Additionally, food stores would have to last through the winter, or starvation became likely.
Instead of hunkering down for spring, HVAC technicians make it so people can thrive during the colder months. Keeping homes warm, they provide installation, repair, and maintenance services to ensure heaters and furnaces are fixed promptly and work safely and efficiently to last through the year.
Beating the Heat During the Summer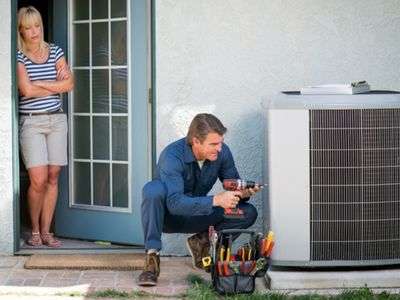 The summer days are gone for now, but it's easy to remember the sweltering days of just a few months ago. While winter makes it easy to be thankful for heaters, summer may be the more vital season for HVAC technicians and services.
With summers getting hotter, it is more important than ever before that homes are cooled. Dealing with the elements during the summer is hard on everyone, but especially the young, elderly, and those with compromised health. With the help of HVAC technicians, everyone can thrive during the summer. They keep the cool air blowing and the humidity in check by safely performing air conditioner repairs, installation, and maintenance.
Safe Indoor Air Quality
Another common concern historically has been indoor air quality. During the winter, people would spend their time crowded around the fire in cramped homes with stale air and high levels of indoor air pollution. Respiratory diseases ran rampant regardless of the season, and indoor spaces couldn't be kept clean.
As soon as climate control technology was developed, it was clear that it would function to clean up the air as well. Indoor air quality, or IAQ, is an essential component of HVAC contractors' responsibilities. Without high-quality indoor air, people are vulnerable to:
Worsening allergies from constant dust and mold exposure
Sinus infections from bacteria in the air
Dry skin and mucous membranes from too little humidity
Asthma attacks
Dusty spaces where dust mites thrive
With routine HVAC maintenance from a professional, homeowners can help keep their indoor air clean. Homeowners should also change their air filters at least every three months so the system can have proper airflow and dust and debris can continue to be removed from their environment. With professional attention twice yearly, the unit stays clean, and the equipment operates to keep humidity levels perfect. HVAC technicians can also install air filtration systems to help further improve the indoor air quality of a home.
About Priced Right Heating & Cooling
Priced Right Heating & Cooling is a veteran-owned business serving Lenexa, KS, and the surrounding areas for over a decade. They provide upfront pricing, quick turnarounds, and personal attention. Call them today for indoor air quality, AC, and heating services in Lenexa, KS.