Humidifiers achieve one simple goal: increase humidity or moisture in the air of the room or building they are placed into. While there are many different types of humidifiers, they all accomplish this same goal. We find that many people are aware that humidifiers provide numerous benefits, but some people are still left with questions regarding humidifiers. Our techs can assist you in understanding the benefits of a humidifier, their purpose, and when we recommend using one.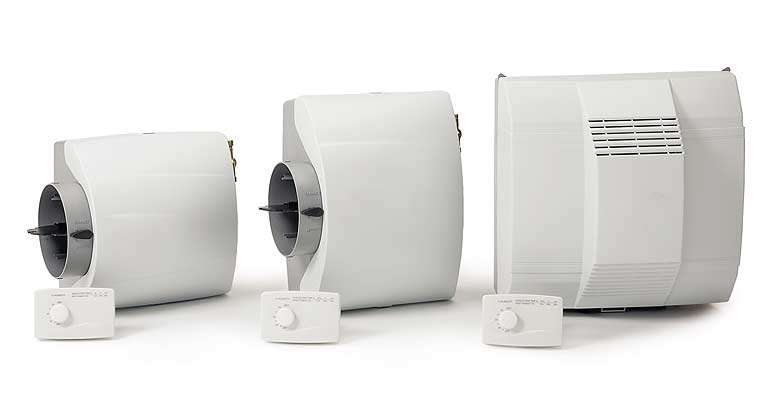 At Priced Right Heating & Cooling, we value your time, home, and comfort. We take each of our customer's needs seriously. Rest assured that our knowledgeable techs are trained and experienced to assist you with units of all makes and models. Rely on us to handle all of your Overland Park humidifier installation and replacement services.
Read what your neighbors in Overland Park are saying about us in our customer reviews!
Why are Humidifiers Beneficial?
When people tend to think of water damage to a home, most people think of floods, leaks, and other unwanted sources of excessive water. We know that excessive water where it is not supposed to be can be damaging, but we also know that a lack of moisture can have serious consequences. We recommend humidifiers to help reduce the amount of static electricity in the air, help maintain the new and vibrant appearance of a room by reducing the peeling of wallpaper and cracking of paint, and help maintain furniture by keeping paint and wood from cracking and losing its finish.
In addition to protecting your home, a humidifier can protect your health, as well. Ideal humidity helps reduce the symptoms of cold and allergies by remedying dryness of the nose, mouth, and throat. In addition, a well-humidified room can help keep dry skin from occurring when the outside humidity is very low.
What Purpose Do They Serve in Your Home?
We find that the purpose of a humidifier is highly beneficial. A humidifier should perform one job: take the benefits listed above and bring them into wherever the humidifier is being used. In that sense, we find that the purpose of a humidifier is to protect the home and your health.
A humidifier can easily be thought of as a constant way to condition and improve the air that it is treating. By maintaining an ideal humidity, the humidifier fulfills its purpose of improving health and protecting the home. We believe that improving comfort and livability are enough, but the benefits provided by a humidifier cannot be overstated. A humidifier is multi-purpose; it is a tool for any area that suffers from dryness and low humidity.
Why Should You Consider Owning One?
A humidifier, for some, is a year-round tool that can be used to maintain ideal moisture at all times. Others find that a humidifier is necessary only during very dry times during the year. Whatever the season, we recommend using a humidifier whenever the air is uncomfortable or overly dry for either the building or its residents.
A humidifier has many excellent benefits to offer, and many people install a humidifier in order to take advantage of one or more of these benefits. A lot of people choose to use humidifiers in the winter, when the air becomes drier, and when colds and the flu run rampant. Some choose to use a humidifier at all times to protect the home and their health. Whatever the time of year, a humidifier offers numerous rewards that are applicable in all seasons and climates.
Signs You Need Whole-home Humidifier Repair
If you have a whole home humidifier, it's important to keep an eye out for any signs that it may need humidifier repair. One common indication is if you notice an increase in static electricity in your home – this could mean the humidifier isn't functioning properly and needs attention. Another potential sign is if the humidifier is producing strange smells or noises. Regular maintenance and yearly inspections can help prevent any issues, but if you notice any of these red flags it's best to call a professional humidifier repair service before the problem worsens.
Don't forget to also regularly change or clean humidifier filters to keep your system running smoothly. With proper care, your whole home humidifier can continue providing comfortable humidity levels throughout your home.
Whole Home Humidifier Installation in Overland Park, KS
Are you tired of dealing with dry, static-filled air in your Overland Park home? A whole-home humidifier installation might be the solution for you. By adding moisture to the air, humidifiers can alleviate symptoms like sore throats and dry skin, as well as protect your furniture and wooden floors from damage. Plus, humidified air can feel warmer in the winter, allowing you to lower your overall heating usage- potentially saving you money on energy bills.
At Priced Right Heating & Cooling, our skilled technicians have years of experience with humidifier installations in Overland Park homes. Contact us today to learn more about how a humidifier could improve the comfort and health of your household.