A Guide to the Tools Heating and Cooling Technicians Keep in Their Fully Stocked Trucks
Anyone who's ever had an HVAC technician come to their home has probably noticed that many contractors travel around in fully stocked trucks. They come prepared with almost everything they may need, from tools and equipment to replacement parts to perform any task they might encounter on a given day.
Naturally, HVAC technicians can't exactly drive around with replacement parts for every model of heaters and air conditioners they might work on – that would require a truck the size of a warehouse. Instead, they keep a stash of essential universal parts, while model-specific parts are ordered ahead of time (when possible) and brought to the job sites that need them. So what are HVAC service trucks stocked with that's so important? Tools. Lots and lots of tools and equipment. This article will give readers an inside look at various tools, safety equipment, and specialized instruments that HVAC contractors use.
Basic Hand Tools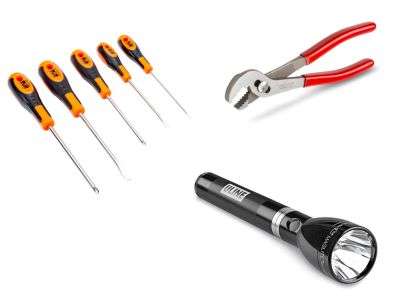 Every heating and cooling technician's toolbox starts with the basics – standard hand tools with a wide range of applications beyond the realm of HVAC, including:
Hammer

Cordless drill

Screwdrivers 

Nut drivers

Wrenches (Adjustable C-wrench, pipe wrench, crescent wrench, etc.)

Pliers (needlenose pliers, lineman pliers, wire crimpers, etc.)

Allen/hex key set

Cutting instruments (utility knife, wire cutters, tube and pipe cutters, sheet metal sheers for ductwork, etc.)

Flashlight/headlamp

Staple gun

Extension cords
Safety Gear
Working on HVAC systems can be hazardous, so no heating and cooling contractor's toolkit would be complete without a comprehensive collection of safety equipment. Here are some protective equipment professionals are sure to carry at all times:
Gloves

– Many techs carry multiple types of gloves for different tasks. Still, the standard is a pair of tough but flexible gloves that provide plenty of protection against cuts, abrasions, and burns while allowing enough dexterity to handle small parts.

Masks

– Masks and respirators are commonly used to protect against dust, hazardous chemicals, and other contaminants that may be present at a given job site.

Goggles

– Eye protection is essential to guard against flying debris, dust, and chemicals, particularly when working with power tools or in crawlspaces.

Ear plugs

– Operating power tools, especially in confined spaces, can be extremely noisy, so technicians use ear plugs to protect their hearing.
Specialized HVAC Tools and Equipment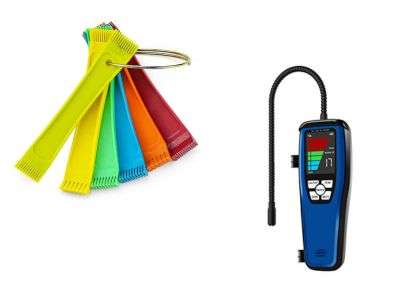 While some of the tools and gear that HVAC contractors use are fairly common, they also use plenty of specialized tools and equipment specific to their trade, such as:
Coil fin straightener (for cleaning and straightening the metal fins on evaporator/condenser coil arrays)

Core removal tool (for replacing refrigerant line check valves)

Vacuum pump (for clearing refrigerant lines in preparation for recharging the refrigerant)

Flushing solvent (for removing contaminants from refrigerant lines)

Refrigerant tanks

HVAC-specific multimeter (for testing electrical components and measuring amperage)

Thermometers and thermocouples (for taking temperature readings)

Psychrometer (for measuring airflow and relative humidity)

Leak detectors (to check for refrigerant leaks)
By keeping this combination of specialized HVAC tools, personal protective equipment (PPE), and general hand tools on hand, heating and cooling contractors can handle any job the day throws at them – with as little inconvenience to their customers as possible!
About Priced Right Heating & Cooling
Priced Right Heating & Cooling is a veteran-owned business serving Lenexa, KS, and the surrounding communities. They provide fair prices, personal attention, and fully stocked trucks for quick turnarounds. Call them today for heating and air conditioning services in Lenexa, KS.