Licensed, professional HVAC technicians understand problems with heating and cooling units. Our expert staff at Priced Right Heating & Cooling strives to insure customer satisfaction. We provide highest quality equipment and service. Our services are 100% guaranteed.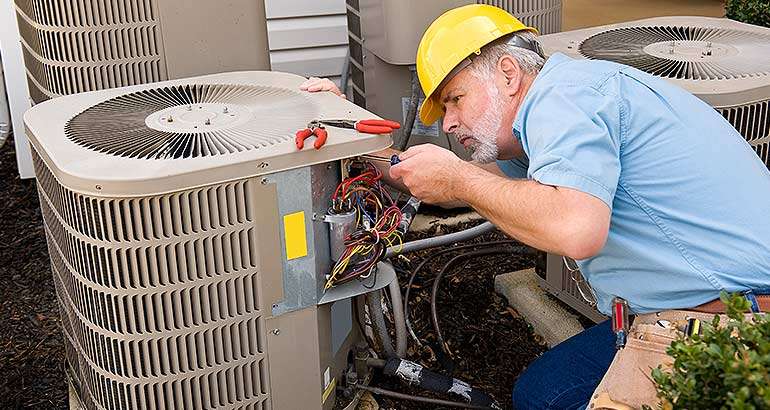 Priced Right Heating & Cooling installs, repairs and maintains HVAC equipment in the Overland Park area. Our professional staff arrives with fully stocked, state-of-the-art equipment at prices customers appreciate. Priced Right Heating & Cooling is highly recognized as an HVAC industry leader throughout the state. We regularly receive customer reviews praising our work. Our staff is ready to answer customer questions and help resolve HVAC problems. Count on us to become your trusted Overland Park HVAC technician today.
We offer the following heating and cooling services:
Read what your neighbors in Overland Park are saying about us in our customer reviews!
What are common AC problems?
Common AC problems may be as simple as an inefficient existing AC system that doesn't distribute cool air properly to all areas of the building or home. Other AC problems may include:
Inefficient thermostat.
Faulty motor.
Dysfunctional or dirty compressor.
Dirty or clogged evaporator.
Dirty or clogged air filters.
These problems can be avoided by contacting Priced Right Heating & Cooling before these AC units cease functioning efficiently. An annual maintenance inspection avoids costly repairs later. When a problem with a thermostat, compressor, motor or evaporator causes your AC unit to malfunction, Priced Right Heating & Cooling will have your AC system up and running and restore your personal comfort.
What are common furnace problems?
Today's furnaces are manufactured for maximum operational efficiency. This doesn't mean problems won't arise at the most inopportune time. The most common furnace problem is often a dirty furnace filter that clogs and reduces air circulation. This causes the motor and/or blower to wear more quickly. On older, existing furnaces, problems may be worn equipment due to use. For example, in the coldest climates where seasons are long, furnaces may wear more quickly.
There are several other common furnace problems. These include:
Malfunctioning thermostat.
Pilot light or ignition controller malfunction.
Lack of regular maintenance.
Depending on the type of furnace, for example, oil, natural gas, or electric, Priced Right Heating & Cooling is prepared to inspect your furnace and assess the problem quickly to restore normal use and function.
Why is replacing an inefficient HVAC unit beneficial?
Although heating and cooling units today are built to last, the functionality of these units depends highly on volume of use and maintenance. A well-maintained heating or cooling unit may function well for up to an additional five years.
The benefits of replacing an inefficient heating and cooling system is that most of these unit upgrades offer a greater level of efficiency and wear. There's also the security of knowing your system operates reliably from season to season.
What are easy ways to save on HVAC costs?
The easiest way to save on your heating and cooling costs is to consider installing a programmable thermostat and to have your units inspected annually. Programmable thermostats manage heating and cooling use best suited to particular needs. Annual inspections will detect potential problems.