Your home can be cooled in a variety of ways. You may have purchases a home that does not have central air, or you can may need to bypass a system that does not work very well. A ductless mini split AC system allows you to cool several rooms in the house from a small unit and is more convenient than window units.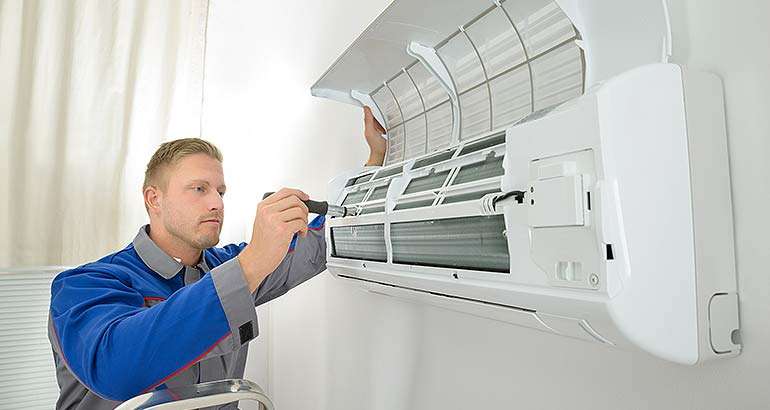 At Priced Right Heating & Cooling, our techs have extensive training and experience to assist you in your Overland Park ductless mini ac split services. We can answer all your questions and concerns. No service job is complete until you're 100% satisfied. Call us to today to schedule an immediate consultation.
Read what your neighbors in Overland Park are saying about us in our customer reviews!
What are the benefits of a ductless mini AC split?
When you install a ductless mini split system inside your home, you are using a very small amount of space to cool several rooms. The ductless mini split will sit in a small area, cool many rooms with using internal ducts and it will use very little energy. These units are so small that they do not use much energy at all. Also, you can program your mini split system to run when you want it to. It uses an internal thermostat just like a regular AC system and runs until the rooms have reached your desired temperature.
How much can you save with this unit?
When you are running a ductless mini AC split system, you are going to save money simply because of its size and how much more efficient it is compared to its central AC unit. These small units do not need the same amount of power that a normal central air system needs. You can plug one of the smallest system into the wall and will use about as much energy as a television. A ductless mini AC split can provide you with up to a third of savings in your utility bills.
What are common problems with this unit and how can you make them more efficient?
When you are using a ductless mini AC split system, you need to remember that it will fall prey to problems that all air conditioners have. The coolant inside the system can get clogged and the clog will make the unit leak. Also, you will notice that the unit's filter will get clogged and cause the unit to run a little hotter than normal.
Finally, there are many units that will run too much when the thermostat is no longer functioning. You will know the thermostat is broken when the unit is cooling the room too much or too little.
Every ductless mini split AC system will run more efficiently when its filters are cleaned regularly, it is plugged into a reliable power source and it is serviced regularly. When you take these three precautions, the unit will run perfectly all through the spring and summer. Working with these systems will save you money and keep your home cool.
Signs You Need Ductless Mini Split Repair
If you're using a ductless mini split system to keep your Overland Park home cool, you could be saving money on your monthly energy bill. Of course, that's only true if the system is running properly. Here are a few signs to look out for that indicate that your system needs ductless mini split AC repair:
No cool air coming out of the unit
Ice around the evaporator coil caused by condensation causing the coil to freeze
Water puddles near the unit
A grinding sound coming from the motor of your ductless mini split system
A spike in your electric bill caused by inefficient heating
If you encounter any of these, call Priced Right Heating & Cooling right away for ductless AC repair.
Ductless Mini Split AC installation in Overland Park, KS
When you need a new ductless mini split system installed in your home or office, call the experts at Priced Right Heating & Cooling. Our team has the equipment and experience to get your new system installed quickly and correctly.
Ductless mini split installation is perfect for anyone who is looking for efficient zoned cooling in their home. They allow you to keep certain areas or rooms cooler while not cooling other parts of the house. If you're looking to cool your home more efficiently and save money on your monthly cooling costs, the ductless mini split installers at Priced Right Heating and Cooling are just a call away!