When you're looking for heating and AC repair services in Overland Park, KS and surrounding areas, you should be working with a highly-reputable contractor you can depend on. At Priced Right Heating & Cooling, we understand the discomfort of an air conditioning or heating unit failure. It also compromises your health and the safety of those living in or around your home.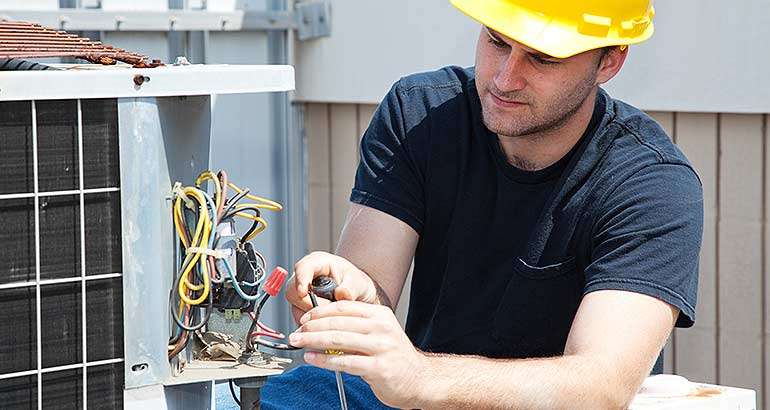 Our team of licensed HVAC technicians has years of experience providing reliable heating and AC repair services to customers in the Overland Park, KS and surrounding areas. We have established a reputation as a company you can trust to offer fast, friendly, and accurate service.
Signs You Need Professional AC Repair
Central cooling is a modern standard of comfort that many have become accustomed to. That's why, when your AC system starts acting up, it's a big disruption to your life. Here are a few signs that you may need professional central AC repair:
Your property no longer reaches the desired temperature
There's water pooling near the drain tube or under ducts
Some rooms in your home cool perfectly fine, while others don't, making the cooling uneven throughout the property
You notice an increase in monthly energy bills, with no apparent change in usage
Your AC unit' age is approaching 10 years, so it's breaking down more frequently
Whatever AC issues you may be encountering in your home, out team of highly-trained professionals can help!
Your #1 Heating & AC Repair Services
Our technicians are here to ensure that your comfort system will be fully functional as soon as possible. That's why we're known for being the top contractor for providing quality repair solutions. We'll be quick to respond to your call and provide the necessary repairs.
Quality Heating and Cooling Services
An HVAC failure can happen at any time. If your furnace suddenly stops working, we will be there to perform a thorough heating repair services assessment and provide you with a no-cost estimate. We know that an air conditioning failure isn't convenient during the hot summer months, which is why we're committed to providing same-day air conditioning repairs.
Benefits of Scheduling Professional HVAC Repair Services in Overland Park, KS & Surrounding Communities
Professional HVAC repair may seem expensive at first. Still, many benefits come from working with a contractor for this type of work. Here are some of the benefits you can reap when you schedule professional HVAC repair.
Improved Efficiency
The cost of heating and cooling your home is based on the efficiency of your HVAC unit. When you send professionals to inspect your system, they can identify problems causing it to run inefficiently. HVAC units are running at peak performance when they're clean, which means more savings than you realize.
Saves Money
Many people are surprised to find out that they're spending more heating and cooling their home than is necessary. A professional inspection will allow your HVAC contractor to examine the condition of your system, including all of the components. You'll save more money in the long run by hiring professionals to fix your system.
Improved Comfort
When your HVAC unit isn't operating efficiently, it can cause discomfort in your home. When you send the professionals out to service it, they'll make sure that everything is working or repaired, so you enjoy comfortable living conditions again.
Extended Life
Most people don't realize that having regular HVAC repairs can extend the life of their unit. The professionals at Priced Right Heating & Cooling will ensure that everything is clean, in working order, and maintained to ensure that you get years of service out of your system.
Call our HVAC Pros at Priced Right Heating & Cooling!
At Priced Right Heating & Cooling, we're dedicated to providing heating and AC repair services in Overland Park, KS and surrounding areas. When your system stops working, you must have a contractor you can rely on at any time of the day or night. With our services, you'll be able to get the repairs you need and return to a comfortable home as soon as possible.