At Priced Right Heating & Cooling, we're happy to assist you with all of your HVAC needs. This includes smaller projects like replacing your AC filter or handling minor repairs. This is because we appreciate how important your filter is to your air conditioner, and we want to help you make your system last longer and run more efficiently.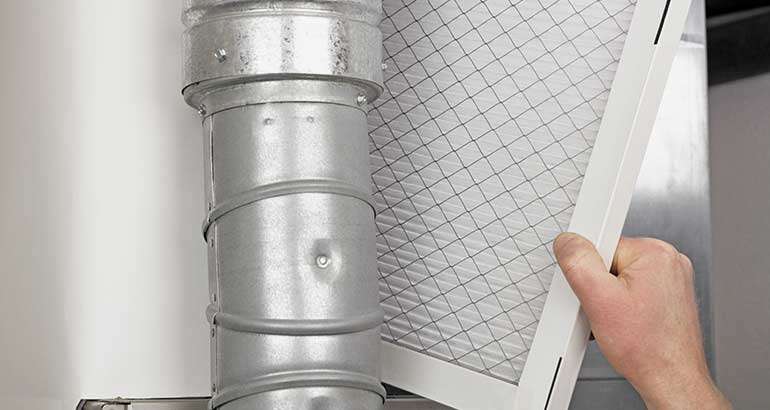 If you aren't sure how to replace your filter, then call us for assistance. We're happy to take you through the process and show you the easiest way to put a new filter in. This is one of the most important aspects of HVAC maintenance. It is important to take the steps to ensure your filters are replaced when necessary. Count on Priced Right Heating & Cooling to perform your Overland Park AC filter replacement services.
Read what your neighbors in Overland Park are saying about us in our customer reviews!
When Is a Professional Filter Replacement Necessary?
Most people replace the HVAC filter themselves, but there are times when you should call in the professionals. If the filter is difficult to replace due to location, then you should let the pros take care of it for you. People who are extremely busy and just don't have time to replace their filters also trust this job to our team. We can provide you with recurring appointments to ensure that you never have to go long with an old filer.
What Are the Benefits of Regular Replacement?
Replacing the filter regularly is an important part of preventive maintenance. It improves airflow, which makes the entire system more energy efficient. People also find that their indoor air quality improves when filters are replaced in a timely manner. You'll also reduce the strain on your system, leading to fewer breakdowns and lower repair bills over time.
How Often Should You Do So?
How often you need to replace the filter depends largely on the conditions in your home. As a general rule of thumb, everyone should put a new filter in once a month. If you have pets in the home, then you may want to replace it every three weeks or so.
People who smoke or have other allergens in the air should also replace the filter more frequently to keep the air clean and moving freely through the system. If you have a very clean home and the filter still looks good after a month, then you can try stretching out the replacement to six or even eight weeks.
What Happens if You Neglect To Do So?
The most obvious problem with leaving your filter in place is that your system will have to run longer to effectively cool or heat your house. The limited airflow also causes your unit to work harder, so you'll burn more power as it runs. The unit won't last as long as a result of the increased strain and you can even damage the blower if the dirty filter remains in place long enough. Ultimately, you'll face larger repair bills and need have to replace the unit prematurely.
Don't Forget About the Furnace Filter!
Replacing the filter in your furnace is a crucial step in maintaining good indoor air quality through the winter months. A clean furnace filter helps to trap dust, allergens, and other harmful particles before they circulate through the air in your home.
The frequency of replacement varies based on the type of furnace filter you use, but it's generally recommended to replace at least once every three months. Pay attention to any changes in air flow or excessive dust buildup, as these can be signs that it's time for a fresh furnace filter. Regular furnace filter replacement can also help improve the overall efficiency and longevity of your HVAC system.